Retail Price: €29.89

Our Price: €14.90
---
Optimum Nutrition BCAA 1000 - 200 Caps
Retail Price: €29.89

Our Price: €14.90
Optimum Nutrition BCAA 1000mg - 200 Capsules
Essential Aminos!
Support New Lean Mass Growth and Reduce Muscle Breakdown!*


Optimum Nutrition BCAA 1000 Benefits
Pure blend of 5,000 mg of BCAAs to top up your daily intake.

Mixes easily to deliver the 3 essential BCAAs.

2:1:1 ratio of L-Leucine, L-Isoleucine & L-Valine.

Mix up first thing in the morning &/or pre or post-workout.


Our BCAA 1000 Caps deliver a pure blend of 1,000 mg (1 g) of BCAAs to top up your daily intake.
What Do ON BCAA 1000 Caps Do?
Muscle is actually broken down during your workout. After training, your body uses protein to repair the muscle fibres.
Each serving of BCAA 1000 Caps releases a 1,000 mg of the three Branched Chain Amino Acids (L-Leucine, L-Isoleucine and L-Valine) in a precise 2:1:1 ratio. BCAAs are described as essential as the body cannot make them from other compounds.
When Is The Best Time To EnjoyON BCAA 1000 Caps?
BCAA 1000 Caps are recommended first thing in the morning and/or during the 30 minutes just before or immediately after training. Simply take 2 capsules with your favourite beverage, or with your ON protein shake.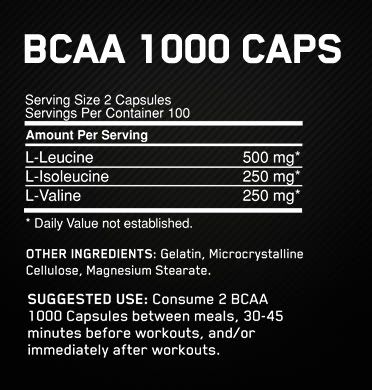 Availability: Out Of Stock
Related Products
Tags: Optimum Nutrition, , BCAA
Disclaimer: Images are for Illustration Only, The nutrition facts are based on one particular flavour and were current and accurate to the best of our knowledge at the time they were entered. Some flavours may be different in terms of nutritional information, servings per container and weight. Please note that manufacturers often change formulas or ingredients without notifying us. Please always read the labels, warnings, and directions provided with the product before using or consuming a product.